I am married to Jonathan Whalley, the Chief Mechanical Engineer on the Ffestiniog and Welsh Highland Railways. Jon and I live on a small farm we bought in March 2010 and I have my studios in my home with my five cats, Meg, Samson. Maizie, Lottie and Bee and our Collie Dog, Merryn to keep me company. As you may of noticed I am a keen horse woman and I own three beautiful Welsh Cobs called Lasgarn Jake, Bryndir Taran and our rising three year old Deicin Flash-Jack who can be seen on our land just outside my studio window. They are my insparation behind most of my equine paintings.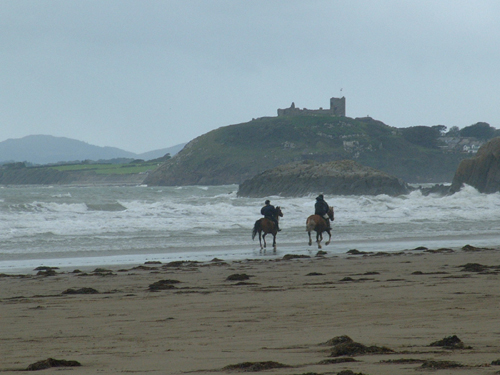 Photo of the Artist on Taran and Neighbour Jane on Tess galloping along
Black Rock Sands. September 2010.

Please feel free to contact me regarding any aspect of my work.

*2013 Price range, depending on subject, size and background etc,
please contact me for a personal quote. I usually charge:
A4 Watercolour Portrait: £140.00 - £160.00*
A3 Watercolour Portrait: £200.00 - £260.00*
A2 Watercolour Portrait: £280.00 - £500.00*
Oil / Arcrylic on Canvas: £200 - £1500.00*

A3 Prints at £20.00 each

Cartoons are usually £50 to £150.00

Gift Vouchers are available on request
I work from good quality photographs or I can visit to draw from life!
For commercial illustration: £25.00 per hour.

Rebecca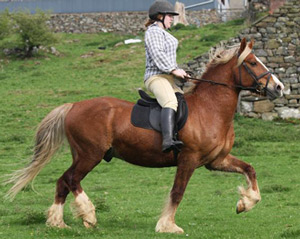 Rebecca riding her Welsh Cob, Taran.
Photo by Frances Cooper.